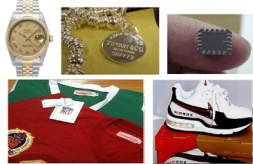 ISSUE:
US Homeland Security (DHS) required a way of detecting counterfeit commodity goods that are visually identical to the authentic goods. Counterfeiting of goods effects US National Security, US Corporations, and every US citizen by erosion of the US economy.
MEASUREMENT ANALYSIS SOLUTION:
Constellation Technology is known as a world class leader in materials testing, inspecting, and identification. The Solution was developed by:
Interaction with the various DHS operational components and Federal Agencies that have the mission to keep counterfeit goods out of the United States
Creating an inventory of a selective number of consumer goods that have a high economic impact on the counterfeit market
Developing an inventory of the materials used to both produce the counterfeit products and the authentic products
Identified measured differences in materials
Based on an analysis of above objectives, our subject matter experts developed a new innovative detection means to differentiate a visibly identical counterfeit product from the authentic item through advanced materials analysis.